I paint on wooden panels, derived from various types of trees, such as lime tree, oak, birch, pine, etc., as well as on canvas and paper. I utilize different materials, including:
acrylic paint
metallic pastes
gilding paint
dry pastels
different kinds of crystal elements
semi-precious stones from the Rhodopi mountains in Bulgaria
resins
bitumen
iron core
colored glass pieces
metal planes
metal buttons, studs and nails
crushed glass
oil paint
dry pastels
and others.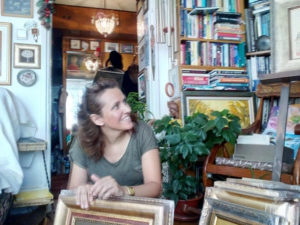 I use all these materials because they exist everywhere in the nature surrounding us and the spaces we inhabit. Some of them, like the crystal elements, also reflect light in an excellent way giving an additional fairy-tale like element to the story portrayed visually in a certain painting.
Part of my paintings have black as their background. The idea for this originates in my first cycle of paintings devoted to the Balkans dating back to 1998-2000 when I organized my first solo exhibition (The Balkans – Captured Moments) and a subsequent exhibition held in Izmir, Turkey in 2002 (Neighbours). Held in the midst of the Yugoslav wars at the time, these exhibitions represented a mosaic of impressions of the historical cohabitation of different ethnic/ religious groups on the Balkans. Among other images, this colorful mosaic was expressed through the varying constructions of architecture of the temples of these people (churches, synagogues, mosques) often positioned in close proximity to one another, their similar houses, heroes, etc. Its main message was that borders do not separate us on the Balkans, but rather it is our own prejudices towards one another that do that.
One of these prejudices was that the Balkans were looked upon as a "dark dungeon" and "dangerous, backward place", "temnitza" ("dark place") as coined by the Yugoslav novelist, poet and short story writer Ivo Andric, the 1961 Nobel laureate. This darkness, however, does not pertain to the physical confinement of a prison. Rather, it comes from the shadows cast by the tall mountains encompassing the Balkans with all the small villages nestled at the foot of these majestic giants and the worries experienced during the tumultuous times of the Ottoman domination. If we could overcome this prejudice faster, at least partially, the easier it would be for us to live together in tolerance and good neighborliness.
The color black has always been abundant in the everyday life of people living on this strip of land – in their clothing, everyday life, traditions, etc. Thus, this tone of color that I use in my paintings became to be associated with this mistakenly applied prejudice. The subjects I portray on this background contrast against it and become alive and vibrant as their internal light shines brighter.